Tire and Wheel Protection Plans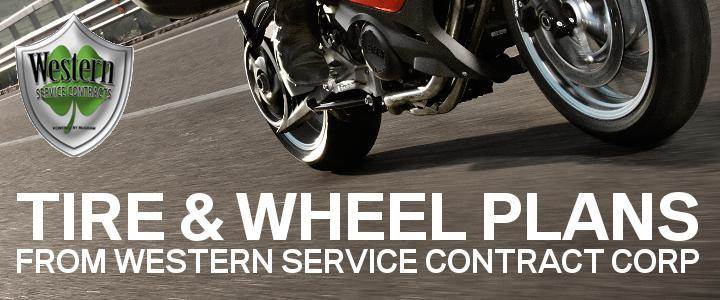 Modern motorcycle tires and wheels are impressive bits of technology, offering today's riders unprecedented levels of grip and excellent handling characteristics. Unfortunately, for a variety of reasons, motorcycle tires and wheels are more susceptible to damage and often cost more than their automotive counterparts.
Debris such as nails, screws and other odd bits of metal can penetrate the carcass of a motorcycle tire with relative ease. After a puncture of this kind replacing the tire is typically the safest choice. Similarly, potholes and other major imperfections in the road's surface can flatten, dent or even crack a motorcycle's wheel creating handling problems and an unsafe condition. Attempts to repair wheels are inconsistent and often reliable which is why we generally recommend replacement of damaged wheels. Replacing tires and wheels can get expensive very quickly, especially for riders that cover a lot of miles which is why we offer our customers Western Service Contract Corp's 'TireSafe Basic' and 'TireSafe Plus' plans.
The 'TireSafe Basic' plan covers the expense of tire repair or replacement in the event that a tire is damaged by a covered road hazard. This plan allows for the repair of up to 5 tires per contract or the replacement of up to 4 tires. The 'TireSafe Plus' plan includes the same coverage for tires but adds coverage for the actual wheels (or "rims" if that's what you call 'em) of the motorcycle. With a 'TireSafe Plus' plan the replacement of up to 4 wheels is covered. Both plans do have a total aggregate reimbursement limit of $3,500 but we rarely see that limit met as $3,500 covers a lot of tires and wheels.
If you are interested in purchase a 'TireSafe Basic' or 'TireSafe Plus' plan, please contact our sales department at 415-503-9954 or e-mail us at sales@bmwmotorcycle.com.
If you would like protect your entire motorcycle from mechanical failures even after the factory warranty runs out please consider Western Service's 'Extended Service Contracts'. Detailed information on 'Extended Service Contracts' is available here.