With a motorcycle permit you will be able to ride motorcycles of any size on city streets, during the daytime without a passenger but riding on freeways, at night or with a passenger is prohibited until you get your full license. Given the relatively limited restrictions for a motorcycle permit holder, we think permits are a great way to get some miles under your belt before going for the full M1 endorsement. To see the steps involved with getting a motorcycle permit click here (or if you're under 18 years old click here).
If you have previous experience riding motorcycles or have already had a motorcycle permit for a period of time, you're probably ready to get your M1 license. In the state of California, you are required to pass a motorcycle riding skills test as well as a written test before you will receive your motorcycle license. The cool thing is that the motorcycle riding skills test does not have to be performed at a Department of Motor Vehicles (DMV) office. The California DMV recognizes the final skills test of any California Motorcyclist Safety Program (CMSP) Beginner Training Course as a legitimate replacement for the standard motorcycle endorsement test that would be performed at a DMV office. Therefore, if you enroll in and complete a CMSP Beginner Training Course you won't have to take a motorcycle down to the DMV office to ride slow figure-8's in front of an unfamiliar DMV employee. Even experienced motorcyclists can find the test at DMV challenging, especially if the test is taken using a large, heavy motorcycle that can be cumbersome while changing direction at slow speeds. The skills test at a CMSP Beginner Training Course is a much more complete and accurate test of a motorcyclist's ability to operate and control a motorcycle safely, plus you can use the motorcycles provided by the Training Course provider while taking their test and they typically provide small, agile motorcycles that will allow you to focus on your technique instead of worrying about scratching your neighbor's shiny (but very hefty) Harley 😉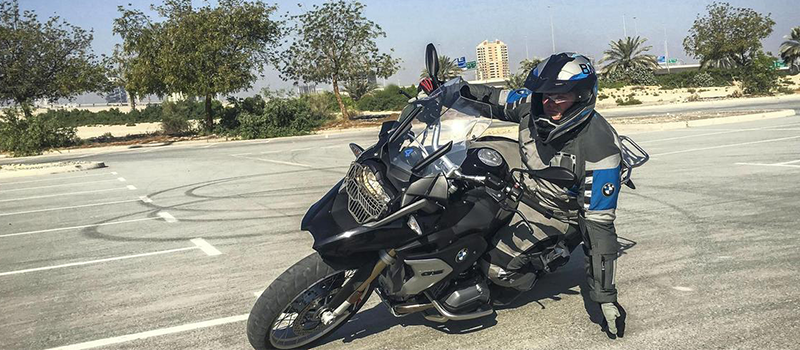 Photo by Antoine Robertson / The National https://www.thenational.ae/lifestyle/motoring/how-to-polish-your-motorcycle-riding-skills-1.699263
With the right training and enough practice, you too may eventually be able to control a motorcycle with the kind of confidence and composure demonstrated here… But don't push yourself too hard, too fast!