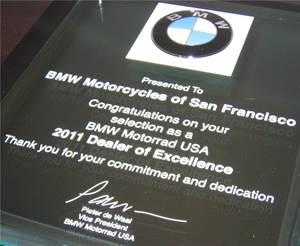 A BMW Motorrad 2011 'Dealer of Excellence' Award Winner
In just our fourth year of business, BMW Motorcycles of San Francisco was selected by BMW Motorrad USA to receive the prestigious 'Dealer of Excellence' award for calendar year 2011. Although we feel we're just getting started, our whole team is extremely proud to have received this kind of recognition from a brand like BMW Motorrad. Only 5% of BMW Motorrad dealers in the United States receive this award each year and considering that there are a lot of exceptional operators in the BMW Motorrad dealer network, we are honored to be considered among the top dealerships in the business. Everyone at our shop knows that our success is ultimately defined by the satisfaction of our customers and we look forward to serving the ever-growing BMW Motorcycle riding community of the San Francisco Bay Area for years to come. Thank you for your continued support and patronage of BMW Motorcycles of San Francisco and we hope to see you very soon.
Shop History & More About Us:
Welcome to the online home of BMW Motorcycles of San Francisco. We are a dealership that is 100% committed to serving and supporting the BMW Motorcycle community here in the beautiful San Francisco Bay Area. Our physical store is located at the corner of 6th and Bryant in San Francisco's SOMA district. We have a great inventory of new and pre-owned motorcycles. But you are probably reading this because you want to know more about how we got here and what our intentions are for the future.
From the late 1990's through March 2008, the BMW Motorcycle franchise in San Francisco was owned and operated by the same people that run the BMW and MINI automotive franchises in SF. On March 31st, 2008, the BMW Motorcycle business was sold to new owners so that the car store would have more room to grow their MINI department. Although any relocation within a metropolitan area presents challenges, we now have a facility that is specifically for BMW Motorrad riders and their machines.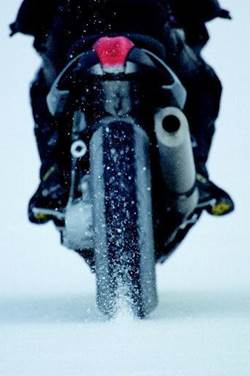 Our building dates back to the 1930's and was, apparently, initially used as a repair facility for elevators. Most recently the building was rented by a major jeans manufacturer (that I am sure you are all very familiar with; they are based out of San Francisco) and used as a photo studio. When we took occupancy of the building we sandblasted the ceilings to give the whole shop a warmer feel and added the equipment required by any modern motorcycle repair facility. We also incorporated the wood ceiling in our new website ;) From design to permitting to completion the renovation took the better part of one year to complete.
One of the main elements of our shop is the customer lounge. Our hope is that this lounge will serve as an oasis for weary travelers and as a hub of activity for all kinds of motorcyclists. The simple fact is that the comfort and satisfaction of our customers are our highest priorities. We hope that you will feel welcome the moment you step into our showroom, service department or lounge area. Of course we are always open to new ideas or ways to improve our operation and thereby your experience. If you have suggestions please e-mail us at ideas@bmwmotorcycle.com
To all the BMW Motorcycle and non-BMW Motorcycle riders, on behalf of the whole staff here at BMW Motorcycles of San Francisco, thank you for supporting our business and the sport of motorcycling that we all love so much!
We look forward to seeing you see soon, but until then, ride well and ride safe! We're located near Daly City, San Bruno, and San Mateo, CA! Our selection includes the BMW F 850 GS and the BMW G 310 R.
Pic: An avid BMW Motorcycle rider, San Francisco resident and all around cool guy, Andy Sills, tearing up the Salt Flats in Bonneville. in 2006, Andy set a world speed record aboard the K1200S shown here.