The F 750 GS and F 850 GS also feature a completely new look, which benefits from a more dynamic and masculine design. The new LED headlight gives the front view an especially striking visusal appeal. In addition to the basic version, the new F models are also available in Exclusive style variations. The Rallye style variant is exclusive to the new F 850 GS and places particular emphasis on its offroad capabilities.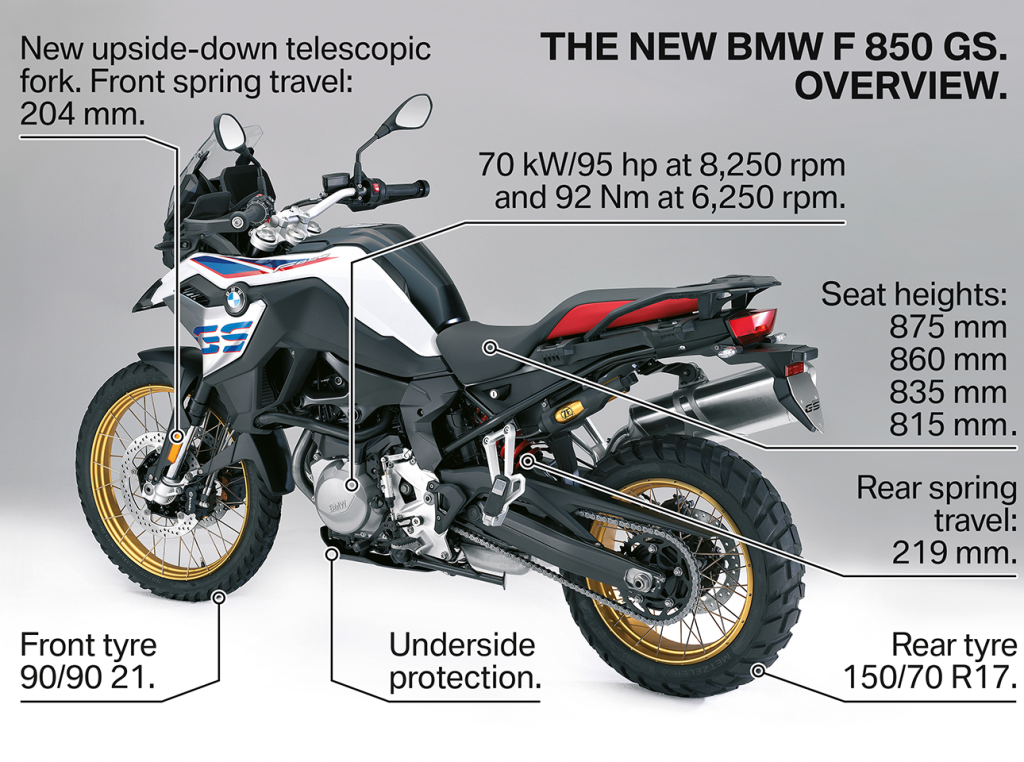 Unique range of optional equipment and Original BMW Motorrad accessories.
The new GS models of the F series are being launched with a range of equipment options that is unique for the middle class. Be it the different seat heights and windshields, the LED daytime riding headlight, the optional Connectivity equipment with TFT display or eCall, the list of fascinating features with which owners can maximise their riding enjoyment and safety as well as experience the thrill of the road is now virtually inexhaustible for middle class travel enduro motorcycles.
Highlights of the new BMW F 850 GS:
* Powerful 2-cylinder in-line engine with a displacement of 853 cc. 70 kW (95 hp) at 8250 rpm and 92 Nm at 6250 rpm.

* Extremely powerful and emotional sound, produced by a crankshaft journal offset of 90 degrees and firing interval of 270/450 degrees.

* New, robust steel bridge frame in monocoque construction for increased riding precision.

* New telescopic fork/upside-down telescopic fork plus double-sided aluminium swinging arm with central spring strut for more sensitive response characteristics.

* ABS, ASC plus 'Rain' and 'Road' riding modes included as standard.

* Pro riding modes with ABS Pro and dynamic brake light, DTC and the new riding modes 'Dynamic', 'Enduro' and 'Enduro Pro' available as optional equipment ex works.

* ESA electronic suspension adjustment available as optional equipment.

* A self-amplifying, anti-hopping clutch for a discernible reduction in hand clutch operating force.

* LED headlight (low and high beam) as standard. LED daytime riding light as optional equipment.

* Connectivity with multi-functional instrument cluster and 6.5 inch full-colour TFT display plus numerous features as optional equipment.

* Intelligent emergency call function now offered for the first time as optional equipment for the middle class.

* Optimised offroad and travel ability plus improved wind and weather protection.

* Sharper GS profile resulting from new design.

* New colour concepts and style variations Rallye and Exclusive.

* A range of optional equipment and original BMW Motorrad accessories that is unique in the middle class, such as Keyless Ride, Gear shift assistant Pro, Dynamic ESA, eCall, Connectivity etc.