2014 BMW R 1200 R Information

Model Year 2014 R 1200 R (MSRP: $14,100*)
Model Year 2014 Changes
New Colors:

'DarkWhite' Special Model

Discontinued Colors:

Light Grey Metallic (N38)
Magnesium Beige Metallic (N40)
90th Year Special Model (N43)
Standard Equipment
LIST OF STANDARD EQUIPMENT
Integral ABS
Center Stand
Power Accessory Socket
White Turn Signal Lenses
Toolkit
Colors
| | | |
| --- | --- | --- |
| CODE | DESCRIPTION | MSRP |
| NA9 | Montego Blue Metallic | $0 |
| N59 | Classic: Sapphire Black Metallic / Alpine White (only with 180 package) | Package |
| NB5 | Light White (R1200R 'DarkWhite' special model, only with 255 package) | Package |
Special Packages
| | | |
| --- | --- | --- |
| CODE | DESCRIPTION | MSRP |
| 180 | R1200R Classic: including color Sapphire Black Metallic / Alpine White (N59) and Classic (144), spoke wheels (145) and chrome exhaust (350) options | $1,100 |
| 255 | R1200R DarkWhite: including color Light White (NB5), sport seat (252) and sport windshield (560) | $600 |
| 430 | Safety Package: includes options TPM (Tire Pressure Monitoring, 530) and ASC (Automatic Stability Control, 650) | $495 |
Options
| | | |
| --- | --- | --- |
| CODE | DESCRIPTION | MSRP |
| 132 | Comfort Seat High | $0 |
| 144 | Classic (only with Classic Package) | Package |
| 145 | Spoke Wheels (only with Classic Package) | Package |
| 252 | Sport Seat (only w/ new DarkWhite Special Model) | Package |
| 350 | Chrome Exhaust | $150 |
| 416 | ESA (Electronic Suspension Adjustment) | $800 |
| 499 | Low Suspension | $250 |
| 519 | Heated Grips | $250 |
| 530 | TPM (Tire Pressure Monitor) | $250 |
| 539 | On Board Computer | $295 |
| 560 | Sport Windshield | $250 |
| 603 | Anti-Theft Alarm | $395 |
| 650 | ASC (Automatic Stability Control) | $400 |
| 665 | Luggage Grid with Saddle Bag Mounts and Handle | $175 |
| 681 | Saddle Bag Mounts (only with Touring Package 429) | $150 |
| 755 | Sport Seat | $0 |
| 774 | Low Seat | $0 |
Standard Package (MSRP: $14,795*)
| | |
| --- | --- |
| CODE | DESCRIPTION |
| 519 | Heated Grips |
| 539 | On Board Computer |
| 681 | Saddle Bag Mounts |
Standard Package + R 1200 R DarkWhite (MSRP: $15,395*)
| | |
| --- | --- |
| CODE | DESCRIPTION |
| 255 | R 1200 R DarkWhite Special Model |
| 519 | Heated Grips |
| 539 | OnBoard Computer |
| 681 | Saddle Bag Mounts |
Premium Package: None
Rules:
Classic Package can only be ordered in Sapphire Black Metallic with Alpine White (N59) color

Classic Package cannot be equipped with TPM (Tire Pressure Monitoring)

Low Suspension can only be equipped with Low Seat

Low Suspension cannot be equipped with ESA (Electronic Suspension Adjustment)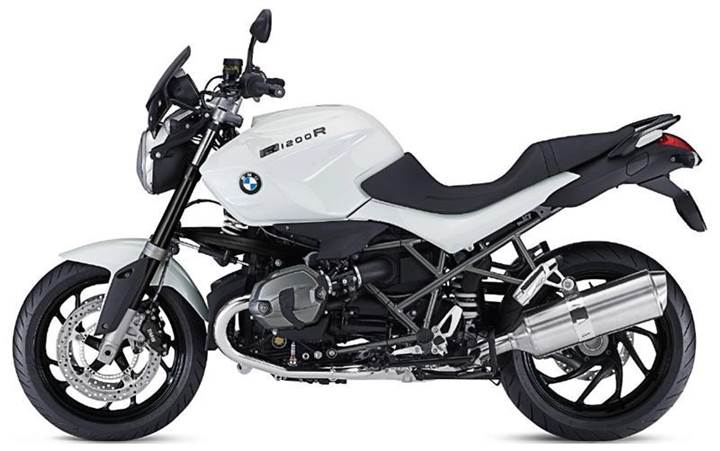 NOTE: US Model R 1200 R DarkWhite will be supplied with a clear windshield
Other R1200R DarkWhite Special Features:
Drivetrain and wheels in Jet Black

Frame in Asphalt Grey

Swingarm, rear axle housing in Matte Black

Front fork tubes black anodized

Clear sports windshield

Sports seat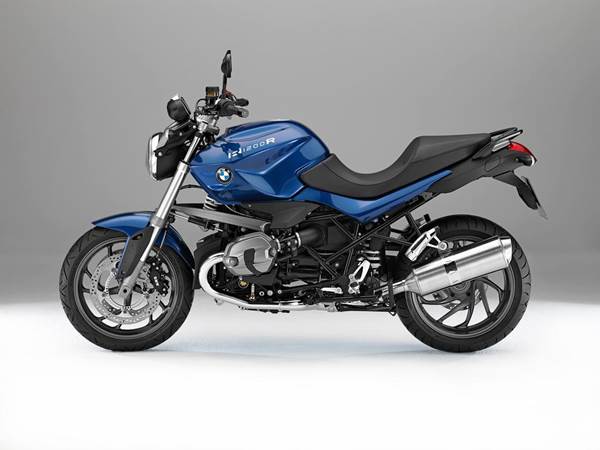 Montego Blue Metallic (above)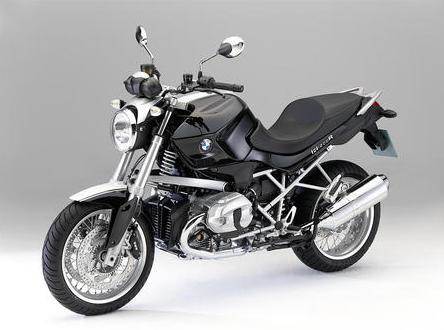 Sapphire Black Metallic – Classic Package
* MSRP does not include tax, license and registration and excludes $495 freight/destination charge that BMW of North America adds to every new motorcycle they sell in the United States. For detailed pricing including 'out the door' figures please contact our sales department.
If you have additional questions or would like to setup a time to go for a demo ride. Please contact our sales department by calling 415-503-9944 or e-mailing us at sales@bmwmotorcycle.com.