Model Year 2013 R 1200 R (MSRP: $13,975*)
Model Year 2013 Changes
Base Model: Integral ABS now added to standard equipment and Safety Package including ABS and ASC removed from 100% options
Base MSRP: $13,975* MSRP increase of $95 (from $13,880 for the 2012 MY R1200R)
Standard Package: No change in equipment level; increase of $95 resulting from base MSRP increase
Premium Package: Not offered
New Options: None
New Special Packages

Safety Package: Content changes to include TPM and ASC (previous safety package included ABS and ASC)

New Colors

Light Grey Metallic (N38)
Magnesium Beige Metallic (N40)
Montego Blue Metallic (NA9)

Discontinued Colors

Smoke Grey Metallic Matte (M11)
Red Apple Metallic (N39)
Standard Equipment
LIST OF STANDARD EQUIPMENT
Integral ABS
Center Stand
Power Accessory Socket
White Turn Signal Lenses
Colors
| | | |
| --- | --- | --- |
| CODE | DESCRIPTION | MSRP |
| N38 | Light Grey Metallic | $0 |
| N40 | Magnesium Beige Metallic | $0 |
| NA9 | Montego Blue Metallic | $0 |
| N59 | Classic: Sapphire Black Metallic / Alpine White (only with 180 package) | Package |
Special Packages
| | | |
| --- | --- | --- |
| CODE | DESCRIPTION | MSRP |
| 180 | R1200R Classic: including color N59 and Classic (144), spoke wheels (145) and chrome exhaust (350) options | $1,100 |
| 430 | Safety Package: includes options TPM (Tire Pressure Monitoring, 530) and ASC (Automatic Stability Control, 650) | $495 |
Options
| | | |
| --- | --- | --- |
| CODE | DESCRIPTION | MSRP |
| 132 | Comfort Seat High | $0 |
| 144 | Classic (only with Classic Package) | Package |
| 145 | Spoke Wheels (only with Classic Package) | Package |
| 350 | Chrome Exhaust | $150 |
| 416 | ESA (Electronic Suspension Adjustment) | $800 |
| 499 | Low Suspension | $250 |
| 519 | Heated Grips | $250 |
| 530 | TPM (Tire Pressure Monitor) | $250 |
| 539 | On Board Computer | $295 |
| 560 | Sport Windshield | $250 |
| 603 | Anti-Theft Alarm | $395 |
| 650 | ASC (Automatic Stability Control) | $400 |
| 665 | Luggage Grid with Saddle Bag Mounts and Handle | $175 |
| 681 | Saddle Bag Mounts (only with Touring Package 429) | $150 |
| 755 | Sport Seat | $0 |
| 774 | Low Seat | $0 |
Standard Package (MSRP: $14,670*)
| | |
| --- | --- |
| CODE | DESCRIPTION |
| 519 | Heated Grips |
| 539 | On Board Computer |
| 681 | Saddle Bag Mounts |
Premium Package: None
Rules:
Classic Package can only be ordered in Sapphire Black Metallic with Alpine White (N59) color

Classic Package cannot be equipped with TPM (Tire Pressure Monitoring)

Low Suspension can only be equipped with Low Seat

Low Suspension cannot be equipped with ESA (Electronic Suspension Adjustment)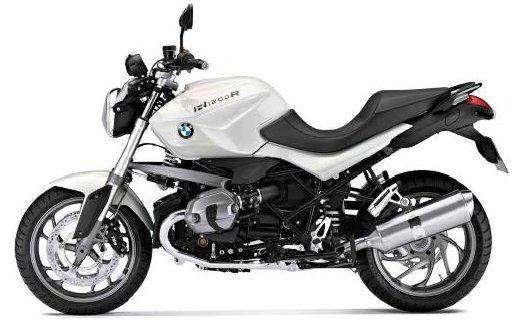 Light Grey Metallic (above)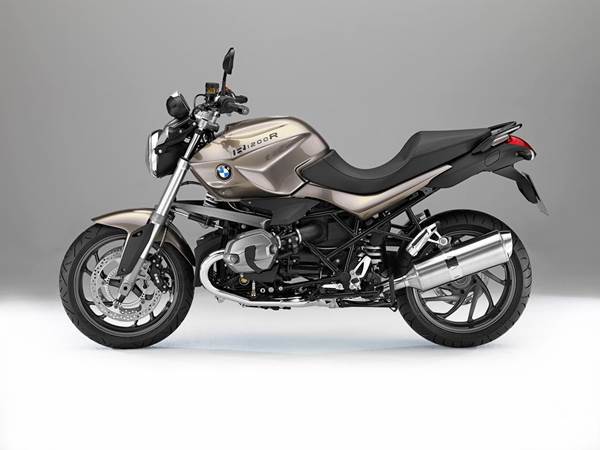 Magnesium Beige Metallic (above)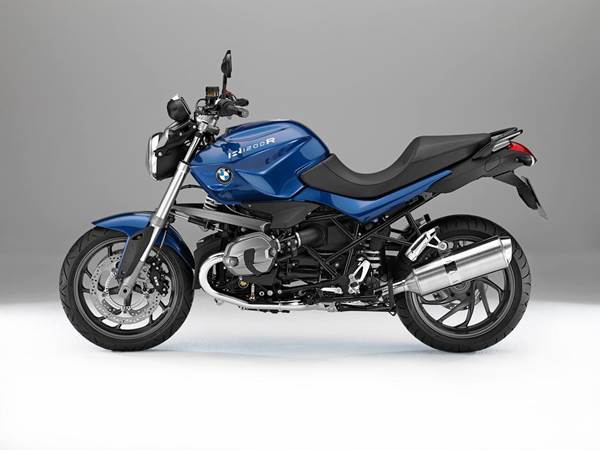 Montego Blue Metallic (above)
90 Years of BMW Motorrad R1200R Special Edition (pricing TBD)
To mark 90 years of BMW Motorrad, BMW Motorrad is building a special version of their legendary roadster, further enhancing the powerful all-round qualities of the R 1200 R with an exclusive color concept. Highlights of the '90 Jahre BMW Motorrad' R1200R are listed below:
Front fender, fuel tank and rear trim finished in Sapphire Black Metallic

Special model inscription

Swingarm, trailing arm and rear frame finished in Asphalt Grey Metallic

Paralever strut anodized in black

Wheels, cylinder head covers, fork bridge and front axle bearings in Granite Grey Metallic Matte

Engine in Black Matte

Exclusive nickel-plate and polished brass plate instead of the BMW logo on the upper fork bridge

Fixed fork tubes and brake calipers at front and rear anodized in gold

Extensive fittings and individually tailored accessories meeting the consistently high standards of BMW Motorrad
Image Gallery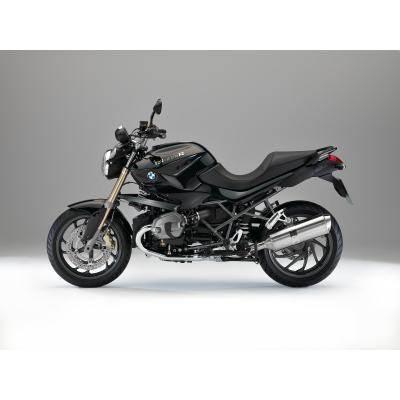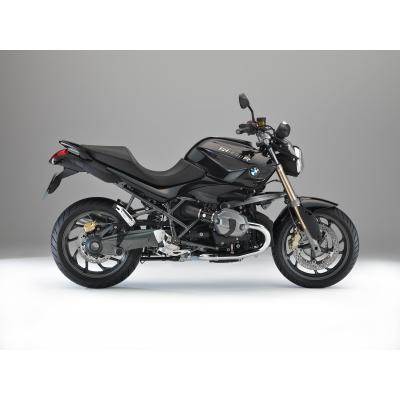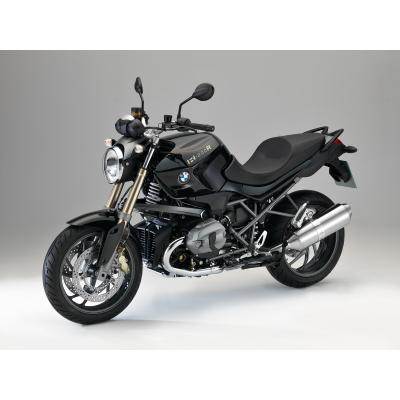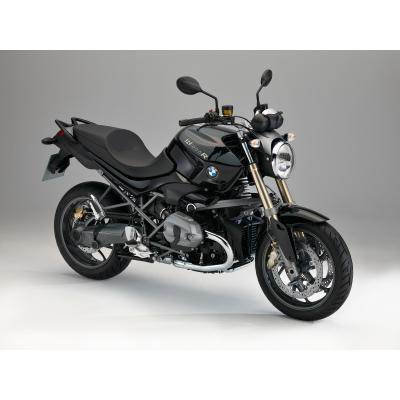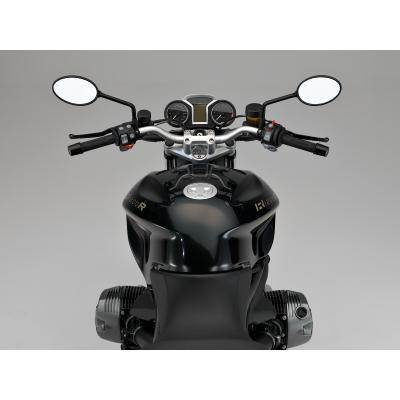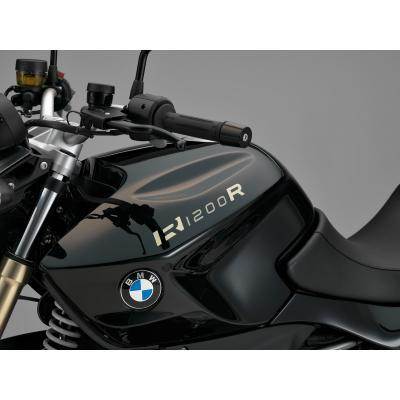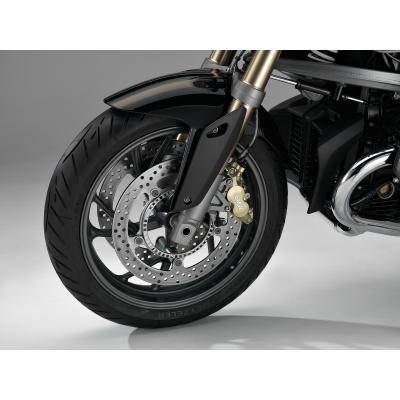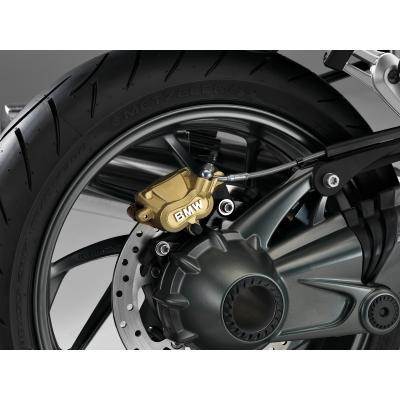 * MSRP does not include tax, license and registration and excludes $495 freight/destination charge that BMW of North America adds to every new motorcycle they sell in the United States. For detailed pricing including 'out the door' figures please contact our sales department.
If you have additional questions or would like to setup a time to go for a demo ride. Please contact our sales department by calling 415-503-9944 or e-mailing us at sales@bmwmotorcycle.com.